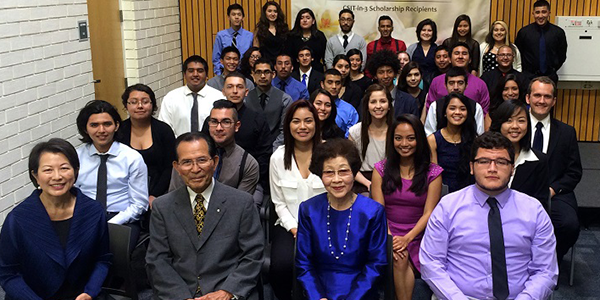 Andy and Yasuko Matsui
According to the Matsui Foundation website, in the 1960's, Andy Matsui came to Salinas from Japan, working hard so he could eventually purchase his first 50 acres to raise chrysanthemums and then roses. In 1998, after ups and downs in the flower industry, at age 63, he traveled internationally to study orchid growing. He took a chance, transitioning all of his operations to orchids. Today, Matsui Nursery is the nation's largest orchid grower.
In 2017, Teresa Matsui, on behalf of her parents, Andy and Yasuko Matsui, announced the philanthropic gift of 215 acres of land north east of Salinas. This is the largest gift the Hartnell College Foundation has received in its history. Their philanthropy will provide $400,000 in scholarships through 2019 for the Bachelor of Science Degree in computer science and information technology through a visionary accelerated 3-year program (CSin3). For 2020 and beyond, Hartnell is establishing a special Foundation Matsui Leadership Gift Committee to develop specific programs and strategies to most effectively maximize the Matsui's philanthropic impact.